LOS ANGELES, California (AP) -- A UCLA police officer shocked a student with a stun gun at a campus library after he refused repeated requests to show student identification and wouldn't leave, police said.

The student, Mostafa Tabatabainejad, was shocked Tuesday at about 11 p.m. as police did a routine check of student IDs at the University of California, Los Angeles Powell Library computer lab.

"This is a long-standing library policy to ensure the safety of students during the late-night hours," said UCLA Police Department spokeswoman Nancy Greenstein.

She said police tried to escort Tabatabainejad, 23, out of the library after he refused to provide identification. Tabatabainejad instead encouraged others at the library to join his resistance, and when a crowd began to gather, police used the stun gun on him, Greenstein said.

Tabatabainejad was arrested for resisting and obstructing a police officer and later released on his own recognizance. He declined to comment Wednesday night.

The incident was recorded on another student's camera phone and showed Tabatabainejad screaming while on the floor of the computer lab.

It was the third incident in a month in which police behavior in the city was criticized after amateur video surfaced. The other two involved the Los Angeles Police Department.

Acting Chancellor Norman Abrams promised an investigation.

"The safety of our campus community is of paramount importance to me," Abrams said in a statement.

Now people are saying that it was a racist act. Idiots. Yeah it was way out of line, but racist? No. The UCPD are just a bunch of power hungry assholes and I'm sure they were itching to use their stun guns the first chance they got. It happened in the computer lab I go to frequently. Scary. In a longer article in the Daily Bruin, a girl who was there said one of the officers threatened to stun her if she didn't go upstairs or something. Glad to know these are the guys responsible for our campus' safety.
Current Mood:

irritated

Current Music:

A Kiss to Build a Dream On - Louis Armstrong
I am officially 21 today. I ordered a Corona at lunch. I rule.
Current Mood:

21!

It's "White Collar Boy" by Belle and Sebastian. I dunno, I just liked it and it's upbeat. I usually have slow, sad songs.

2. What month were you born in?:
October, my birthday is in 2 days!

3. Where do you live?
Whittier, Ca

D E S C R i B E Y 0 U R . .

4.Wallet:
Pink Dooney and Bourke from 2004. Actually it's a clutch but I have so much crap I use it as a wallet.

5. Dream car:
Audi A4, dark grey

6. Toothbrush:
Electric pink at my house, same in green at Dustin's.

7. Jewelry worn daily:
My bracelet Dustin gave me for our 1 year anniversary

8. Pillow Case:
Flannel and off-white, I looooove flannel bedding.

9. Eyes:
Brown like poop.

10. House color:
Cream?

11. Love life:
Awesome.

12. Cologne/Perfume:
Grace by Philosophy

13. CD in stereo:
A mix

14. Piercings:
ears

W H A T A R E Y 0 U . .

15. Wearing:
A brown top, jeans, all black Vans slip-ons

17. Wanting:
My Steve to be here so the festivities can begin!!

18. The last thing you ate?
Chicken, rice, and veggies

19. Something you are afraid of:
dying

20. Do you like candles?:
Meh. I hate how it smells when you blow them out, it makes me sick, so I'll go with no.

21. Do you like the taste of blood?
Gross.

22. Do you believe in love?:
Yes

23. Do you believe in soul mates?:
No

24. Do you sleep naked?:
No way, too cold.

25. Do you like seafood?:
Ooooooh, yes!!

26. Do you remember your dreams?:
Almost always.

27. Do you consider yourself a study freak?
Now yes because I have to be.

28. Do you consider yourself a health nut?
I try to be but I love unhealthy food way too much and I never exercise :(

29. Do you like tattoos?:
Yuck.

30. Do you believe in miracles?
Ummm... maybe...

31. Do you burn easily in the sun?:
I guess so

32. Do you speak another language other than English?:
Bad Spanish

33. What's something you wish you could understand better?:
Some stuff from my primates class.

34. Are you shy around a crush?
Sometimes.

35. Do you have a crush on someone right now?:
My bebeh!!

38. How old are you?
Almost 21!!

39. Got any plans for the weekend?
YES!!! It's my birthday!!! And the UCLA v. Washington State game. And the USC v. Oregon State game (go Oregon!!). And massive studying on Sunday for 2 Thursday midterms.

40. Who do you miss other than your crush?
My friends. They've all been assholes to me lately except one.
------------------------------------------------------------------------------

1. DO YOU SNORE?
NO I DO NOT!

2. ARE YOU A LOVER OR A FIGHTER?
A fighter.

3. WHAT'S YOUR WORST FEAR?
Being stuck in a job I hate and not making enough money to pay off all my debts.

4. AS A KID, WERE YOU A LEGO MANIAC?
I don't think so, no.

5. WHAT DO YOU THINK OF "REALITY" t.v.?
Love some. American Idol, Amazing Race, Project Runway, Top Chef... Top Model has gotten dumb.

6. DO YOU CHEW ON YOUR STRAWS?
Nope. Unless I'm sharing a drink, then I chew mine so we don't get the straws mixed up.

7. WERE YOU A CUTE BABY?
I totally was.

8. IS THE SINGLE LIFE FOR YOU?
No.

9. WHAT COLOR IS YOUR KEYBOARD?
grey

10. DO YOU SING IN THE SHOWER?
I dance ;)

11. HAVE YOU EVER BUNGEE JUMPED?
Nope and I don't think I'd like to.

12. DO YOU HAVE ANY SECRET TALENTS?
I can bend my thumb all the way back to touch my arm...

13. WHAT'S YOUR IDEAL VACATION SPOT?
Italy. Or Hawaii. Or England. Or Spain. Or Seattle.

14. IS JAY LENO FUNNY?
Nope

15. Have you eaten sushi?
It's only my favorite food of all time

16. HAVE YOU SEEN THE MOVIE "DONNIE DARKO"?
Yup, it sucks

17. DO YOU GIVE A DAMN ABOUT THE OZONE?
yes.

18. HOW MANY LICKS DOES IT TAKE TO GET TO THE CENTER OF A TOOTSIE POP?
3... and then you bite.

19. CAN YOU SING THE ALPHABET BACKWARDS?
probably

20. HAVE YOU EVER BEEN ON AN AIRPLANE?
Yup

23. WHAT'S YOUR STAND ON HUNTING?
Messes up the ecosystem.

24. IS MARRIAGE IN YOUR FUTURE?
Yes

25. DO YOU LIKE YOUR HANDWRITING?
Very sloppy

26. WHAT ARE YOU ALLERGIC TO?
Kiwi and pineapple, but I think I'm outgrowing it.

27. WHEN WAS THE LAST TIME YOU SAID, I LOVE YOU?
I texted it to Dustin a couple of hours ago.

28. IS ELVIS STILL ALIVE?
No.

29. DO YOU CRY AT WEDDINGS?
Yup

31. ARE BLONDES DUMB?
Everyone is dumb

32. DO YOU LIKE SPORTS?
Yes.

33.WHAT TIME IS IT?
6:58pm

34. DO YOU HAVE A NICKNAME?
Phino P

35. IS MCDONALD'S DISGUSTING?
Oh yeah. Except their hot fudge sundaes

36. WHEN WAS THE LAST TIME YOU WERE IN A CAR?
An hour and a half ago.

37. DO YOU PREFER BATHS OR SHOWERS?
Showers.

38. IS SANTA CLAUS REAL?
Um, no

39. DO YOU LIKE TO HAVE YOUR NECK KISSED?
No I'm ticklish

40. ARE YOU AFRAID OF THE DARK?
Yes, when I'm alone

41. WHAT ARE YOU ADDICTED TO?
Burts Beeswax, cake, sleep

42. CRUNCHY OR CREAMY PEANUT BUTTER?
Creamy

43. CAN YOU CRACK YOUR NECK?
No

44. HAVE YOU EVER RIDDEN IN AN AMBULANCE?
No.

45. HOW MANY TIMES HAVE YOU BRUSHED YOUR TEETH TODAY?
Once this morning

46. IS DRUG FREE THE WAY TO BE?
Yes

47. ARE YOU A HEAVY SLEEPER?
Yes

48. WHAT COLOR ARE YOUR EYES?
Still brown...

49. WHEN WAS THE LAST TIME YOU CRIED?
This morning while I was driving to school. I was feeling sad.

50. DO YOU LIKE YOUR LIFE?
Yes

51. WHOSE BETTER?
My Steve.

52. ARE YOU PSYCHIC
No, but I have deja vu sometimes.

53. HAVE YOU READ "CATCHER IN THE RYE"?
Yeah, it was ok.

54. DO YOU PLAY ANY INSTRUMENTS?
I wish

55. HAVE YOU EVER STOLEN MONEY?
Sometimes I take quarters from my mom's coin jar...

56. CAN YOU SNOWBOARD?
No but I'd love to try

57. DO YOU LIKE CAMPING?
I don't know if I hate anything more.

58. DO YOU SNORT WHEN YOU LAUGH?
No

59. DO YOU BELIEVE IN MAGIC?
No... but I love Harry Potter.

60. ARE DOGS A MAN'S BEST FRIEND?
Way more than cats.

61. YOU BELIEVE IN DIVORCE?
I believe in the option, but I hope I never have to go through it.

62. CAN YOU DO THE MOONWALK?
No

63. DO YOU MAKE A LOT OF MISTAKES?
Constantly

64. IS IT COLD OUTSIDE TODAY?
It was sunny but windy

65. WHAT WAS THE LAST THING YOU ATE?
Still chicken, rice, and veggies.

66 DO YOU WEAR NAILPOLISH?
Just on my toes... I have to re-do them.

67. DO YOU WEAR UNDERWEAR?
Uh, yeah.

68. What's the best TV commercial?
I dunno about TV but on the radio, the "Real American Hero" Budweiser ones are soooo hilarious.

69. DO YOU SHOP AT AMERICAN EAGLE?
They have the best jeans.

70. FAVORITE BAND AT THE MOMENT:
Of the moment... I guess Muse, but Beatles forever.
1. Story behind your myspace song:
Current Mood:

dirty


I can't remember the last time I've been so excited for the release of a DVD. Yes people, the Little Mermaid comes out today. My mom was supposed to get it for me at Target today but I don't know if she ended up going. I can always get it this weekend though and I'm looking forward to torturing Dustin with it. So many good things to watch. LOST comes back tomorrow, hell yes. Unfortunately I have to wait for SOMEONE to get here this weekend so we can watch it together. Bummer. At least I have Project Runway Reunion Special to get me through the day. My goal is to finish all my school crap by 7 so I can be free to watch everyone pick on Keith, who definitely deserves it. Oh and I saw Ugly Betty and really liked it so that's one more thing to DVR and force Dustin to watch with me. Not to mention UCLA football this Saturday. I have a feeling all we're going to do now on the weekends is sleep and watch TV. Oh wait, that's all we do already!

I need sleep.
I feel behind already. I am exhausted and kind of grouchy. At the start of my last year, I'm finally learning what it takes to go to class prepared, and I don't like it. How stupid is this assignment: read each chapter or article and write IN 20 WORDS OR LESS the main argument of the author. Yeah. For a 52 page article, I need to sum it up in 20 words. Right. Then I have to take the article that I was assigned and make up a question that relates it to the other readings. Lucky me, I got the introduction of the textbook where no points are really made. So I have that to finish before I can go to sleep. And I haven't even started on my reading for my primates class, I hope to do all that tomorrow after work. I think I enjoy class one day and work the next, and so on. It's better than having to do both in one day, even if it means 6 hours of class.
Current Mood:

sleepy

Current Music:

Part of Your Wooorld :)


Oh my God.

Watch it and then talk to me.
Project Runway.
Current Mood:

sleepy
Current Mood:

bored

Current Music:

Joy Division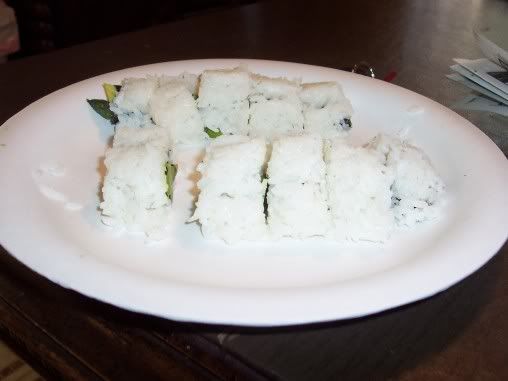 I made that sushi with a make-shift sushi mat: my potholder wrapped in plastic. It tasted like sushi but it kinda fell apart.
Right now my brothers are having a party since my parents are in San Diego for the weekend and I'm fucking pissed. They're bumping some shitty music and it's 10:30 at night. I hope my 80 year old neighbors call the cops. Execpt that my 19 year old brother is drunk or high or both. I'm seriously so disappointed in my brother. He's turned out an asshole too. I went out there to look at the damage and told him that he better clean all that shit up and he just rolled his eyes at me. He's really an asshole sometimes. As for my step-brother... he has no future. THIS is his future. He'll still be living at home by the time he's 40, still waiting for my parents to go out of town so he can invite over his loser, free-loading friends and then can use him for all he's worth. Which isn't much. Honestly I'm just so pissed right now. I wish I had somewhere else to go.
Current Mood:

annoyed

[x] Include a picture of yourself.
[x] Best memory of me.
[x] Favourite thing about me.
[x] What's the best thing you've ever done with me.
[x] What's my best quality.
[x] What's my worst quality.
[x] Describe me in as many adjectives as you want.
[x] If you could set me up with someone who would it be.
[x] Name one band i like.
[x] Name one thing i wear.
[x] Name one thing i love.
[x] Name one thing you think i should have.
[x] Say one fact about me.
[x] Write your honest opinion of me.
[x] Post this on your journal
[x] Do this in a comment.
Current Mood:

sleepy

Current Music:

Spoon - I Turn My Camera On